13 décembre 2015
Vous pouvez decouvrir les sculptures que j'ai présenté ce week-end dans mon atelier de Nantes dans la rubrique Albums:
"Ouverture d'atelier du 11-13 décembre 2015"
N'hésitez pas à me contacter par mail pour plus de détails : guerardrio@yahoo.fr
06 décembre 2015
Venez découvir mes dernières créations dans mon atelier vendredi 11 décembre 2015 à partir de 19h00, samedi 12 & dimanche 13 décembre de 14h00 à 20h00.
Rendez vous 4 rue de la ville en bois, Nantes (Place Canclaux).

Un catalogue en ligne sera disponible à partir du 15 décembre dans le rubrique Albums.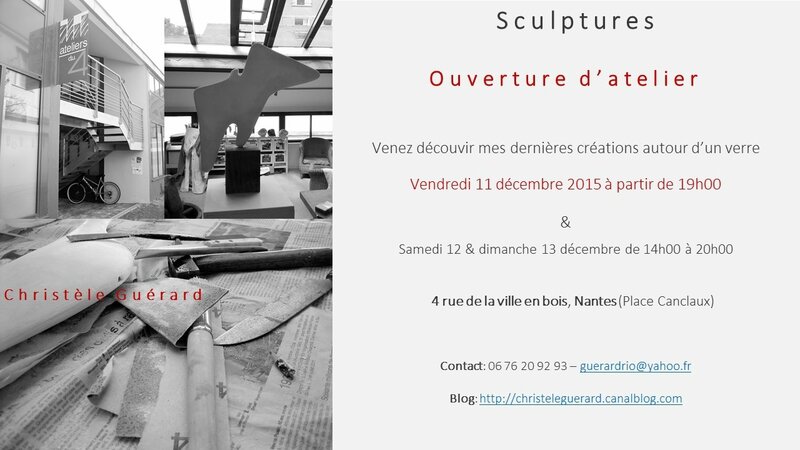 24 juin 2015
"La Mouette" est une nouvelle sculpture en platre de Paris soclée sur un bloc de chêne massif.
Initialement prévue pour être presentée lors de l'exposition du 28 mai dernier mais le temps m'a manqué.
Je vous invite à la decouvrir in situ, atelier du 4 rue de la ville en Bois, 1er étage droite (près de la place Canclaux).
30 mai 2015

Un Grand merci à tous ceux qui m'ont aidé à la préparation de cette exposition et à tous
ceux qui sont venus découvrir mon travail. Un bel encouragement qui m'aide à poursuivre.
30 mars 2015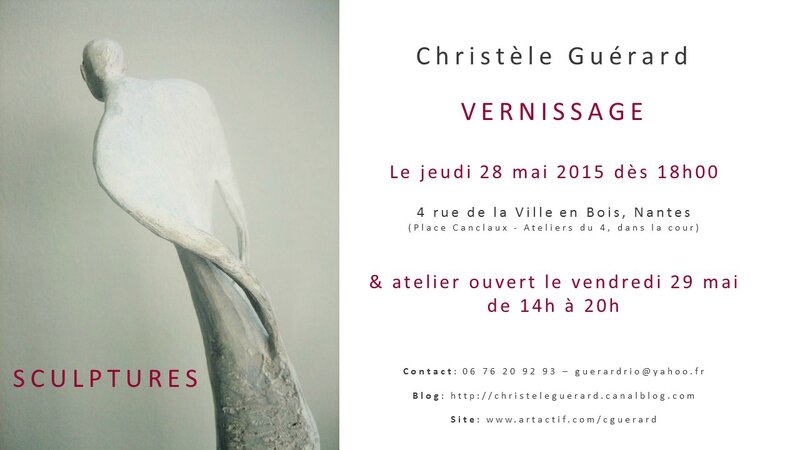 1ère exposition de sculptures à Nantes dans mon atelier. Vous pouvez voir le catalogue dans les albums photos. Vos commentaires sont les bienvenus.
27 juin 2014
Nouvel espace de création: l'Atelier du 4, 4 rue de la Ville en Bois.
Nouvel espace géographique: Nantes.
Nouvel associé artistique: Jean Francois Chéneau, peintre, sculpteur et écrivain nantais.
Pour de nouvelles sculptures à découvrir prochainement In situ...
11 juin 2013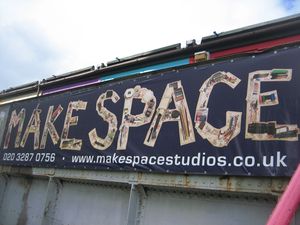 Dear All, Thank you for coming to my Private View, 6 june 2013 in my Studio 33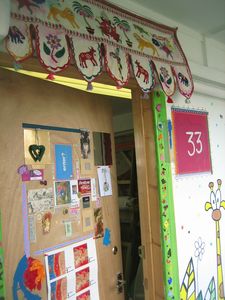 at MAKE SPACE STUDIOS, Newnham Terrace, LONDON SE1 7DR.
It was a great time and i have got a fabulous feed back on my recent works.
I'm moving to France in 3 weeks after 4 years in London...
As we say in brasilian language muitos saudades ...
24 mai 2013
SAVE THE DATE!
You are most welcome to my STUDIO N.33
For a drink
On Thursday 6 June 2013 from 6-9 PM
For a Private View of my recent SCULPTURES
Before our move to France
Or on Saturday 8 & Sunday 9 from 11-6 PM
During the Open Studios of MAKE SPACE STUDIOS
For more info : www.makespacestudios.com
Newnham Terrace, LONDON, SE1 7DR
Looking forward to seeing you there!
15 décembre 2012
Dear All,
Thank you for coming to the 1st ART & RHYTHM, HAPPENING, 13 December 2012,
at the SIMULATOR GALLERY, MAKE SPACE STUDIOS, Newnham Terrace, LONDON SE1 7DR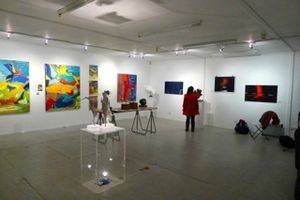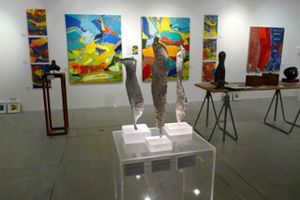 As artists, we had a great moment and got a fabulous feed back.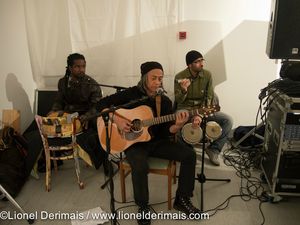 Nogabe Randriaharimalala -Song writer- Musician, Khalifa Conte - Calabash, Mehdi Ganjvar - Darbuka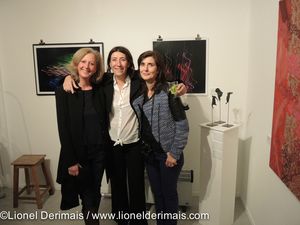 Christele Guérard - Sculptor, Florence Gomez - Photographer, Laurence Causse-Parsley - Paintings
Your participation and your energy contributed to the success of our interactive exhibition
and gave us a real input.
A second happening of ART & RHYTHM will be scheduled after the winter.
More art, more music, more friends!
We will let you know. It will be an opportunity for you and those who couldn't come
to discover our new creations.
The catalogue of the exhibition is now available on the blog on the left columns at the bottom.
23 novembre 2012
I have the pleasure to participate to :
HAPPENING
ART & RHYTHM
13 December 2012, from 6 pm to 9 pm
at the Simulator Gallery, MAKE SPACE STUDIOS
Newnham Terrace, LONDON SE1 7DR.
This HAPPENING associates 4 artists :
Laurence Causse-Parsley, paintor - Florence Gomez, photographer - Nogabe Randriaharimala, singer & composer - and myself as a sculptor
TO CREATE interferences & resonances between our works.
THIS wil be not a Christmas party,
THIS will be one night only event,
THIS will be a casual happening to relax with friends ,
WITH excellent live music from Madagascar & delicious French wines from Jura
An opportunity to win a painting, a photo or a sculpture with our Lucky Art draw